One of the ways to make a meaningful and lucrative digital footprint is to start a blog. Storytelling as such is compelling in many ways. In days of old, people would tell stories orally using skillful rhetorical techniques. As literacy grew, they started writing stories down on parchments and leather sheets. Then book printing came along and took storytelling to greater heights. Yet with the introduction of the World Wide Web, storytelling came to practically every home. Now people can search for many things online. They are more likely to stumble upon blog posts covering topics that go as far as tech advancements, well-being advice, and the latest news.
So how can one go about starting a blog? What are the essentials? We're going to look at major components and tips for starting a blog in a series of blog posts. In today's post, however, we're looking into whether or not you need to stick to a niche.
Should a blogger focus on a niche?
'I want to start a blog' is a query many want to find guidance for. The first and foremost advice people run into is to come up with the blog niche. There's been a debate on the web whether or not a niche is necessary to create a blog. Some say that choosing a niche is absolutely vital, others hold on to the opinion that a blogger can write about anything they want.
Challenges of having no niche
Before you find out how to create blog content, you may want to narrow your writing down to a niche. Let's see what difficulties come up if you don't have a niche.
Trouble with marketing
There should be a certain niche so that it's easier to pitch the message to the readership. A blog shouldn't be all over the place trying to say about many subjects at once. Therefore, sticking to a niche can make things much easier for any blogger.
Trouble with monetization
If would-be bloggers want to know how to make money blogging, they should have a niche. Otherwise, it's not clear where all the efforts should be directed at. The deeper the expertise is, the higher the chances are to generate viral content and get revenue. Usually, products or services are specific and require specific content.
Identity is vague
When a tech savvy person hears someone saying TechCrunch, they can instantly recognize the strong and reliable identity standing behind the blog. That's what every blog should aim at. Building an identity takes time and, of course, a niche. With a niche, it's much easier to find and build up that identity. Bloggers want to be associated with what they write about, don't they?
Problems that come with having a niche
On the other hand, having a niche can be hard for various reasons. Let's go over a few.
Content exhaustion
When there is a niche, it may eventually lead writers to run out of blog post ideas. If the niche has a narrow scope, there may be nothing to write about down the road.
Getting bored
Routine can be tiring and you may find yourself exhausted as well. You may lose interest in writing blog posts about your chosen niche. If you lose interest, it will surely influence the quality of copy you create.
Anyway, you have to start somewhere and the best way is still to narrow down your content.
Defining a blog niche
The best way to start a blog fast is to define a blog niche. Defining a blog niche should come first before getting down to writing or creating a blogging platform online. Everyone needs a purpose in life, so does a blog. It will be much easier to deliver a message and ensure consistent publishing.
A simple scheme below illustrates how to come up with a blog niche.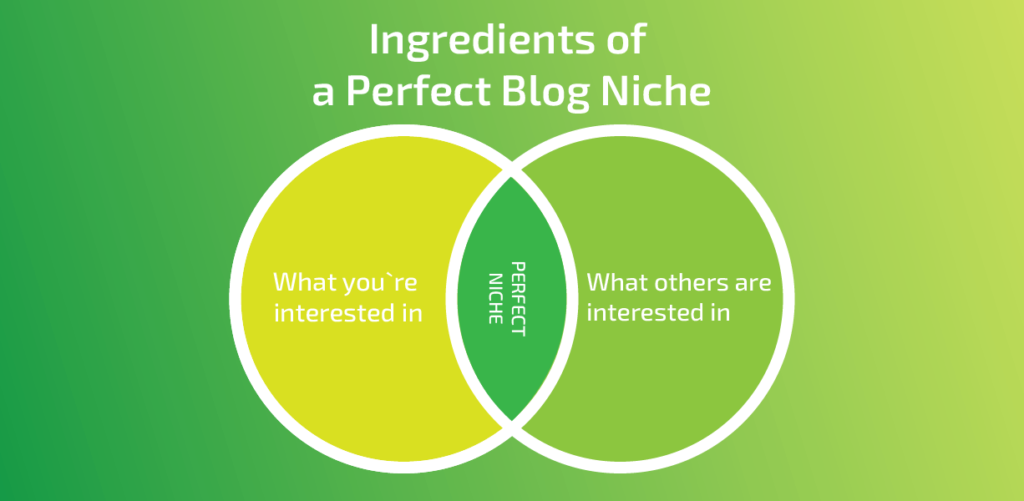 Determine the goals of your blog
When you keep your eyes on the prize, you're more likely to persevere. These are good questions to ask yourself when creating a blog and deciding on a niche for it.
Who is my blog for?
How will my blog be valuable to the target audience?
How do I envision my blog in a month, in a year, or in 5 years' time?
Clear blog vision and the ability to provide answers to these essential questions can either encourage you or make you choose another niche after all.
Blog ideas that make money
The niche is where people's interests lie. When thinking of a niche, one should think problem-wise. A blog must address pain points and show how to eliminate those problems. There are several niches that have a long-lasting value for various audiences. Some popular markets to tap into include:
Fitness and well-being
Health
Finance
Relationships
Self-development
Psychology
Technology
Beauty and fashion
To make sure you choose a relevant niche, access a keyword research tool to come up with a blog niche list. Keyword research tools are usually paid. If you lack resources, you can find which niche is worth writing for when browsing a magazine stand. Publishing is expensive. When you see that some niche is featured in a newspaper or magazine then the game is worth the candle.
Also, you can google your niche keywords and see what comes up in search results. If there are any paid ads, then you can consider the chosen niche a profitable field. You can also search if there are any affiliate programs in the niche of your choice. Type ['your niche' affiliate program] and check what pops up.
To check if this or the other niche is popular, google blog posts. See if there are ads or affiliate links on the page with the blog post. Maybe, you can find eBooks that are being sold. If you do get numerous results, then those are some good blog niche ideas.
How to create a blog
If you want to get down to blogging, we recommend you stick to a niche. Blogging ideas for beginners are not that hard to come by as long as you have some prior experience in the chosen field. Find out if the niche is still popular and build your blog content around it. To go live on the internet, you need to host your blog and we can help you with that. At HostPro, we place your site on a reliable server and offer 'round the clock support and protection.