We all love watching videos or films online and surf the internet to find a recipe or an important piece of information. But how is it that these things and much more are available on the internet? The answer is quite simple: through web hosting delivered by different providers. Before you address a web hosting provider, there are some things you should know about hosting services and resources. If you don't know where to begin, don't give way to despair. In this article, we'll walk you through basic principles and terms, which can point you to the perfect plan.
What stands behind hosting?
It's paramount to understand how hosting works to eliminate all confusion around this subject. Hosting allows you to make your website available online. In a nutshell, there is a server (think of it as a physical machine hooked to the internet). The server keeps your website—all its files and database—and whenever a visitor wants to access your website, they simply need to find it on the internet. The server your website is placed on will serve the content of your site to the visitor's browser.

You are to have the technical know-how to be able to manage a server. Servers are tricky in their own way. They require maintenance, upgrades, and even sometimes fixing. If you entrust hosting to a professional company, you can forget about the hassles around servers, updates, or repairs.
Professional web hosting provider: Things to look for
You've come to the point where you lack expertise or in-house manpower to handle the server. It's high time to look for a web host! But it's not about the host, it's about what they can offer. Below, you can see some principal criteria you can pay attention to when choosing a hosting provider.
Performance
The server you're going to place your site on should provide you with the necessary level of performance and uptime (not less than 99,9%). A thoughtful web host leverages NVMe hosting and powerful Xeon-based processors, letting websites work fast and reach top rankings in search engines.
Security
Secure hosting is what you strive for and a good web hosting company should provide you with that opportunity. The security of your website is entirely based on firewalls that block viruses and malicious traffic. Also, an SSL certificate should be employed to encrypt communication between the web browser and the server so that no sensitive data can get stolen. Find out if the company you want to host your site with has these features and can offer add-ons to improve your website security.
Tech support
It's always great to have a team of tech experts who can troubleshoot problems. Imagine that an issue comes up you cannot solve by yourself. Fast-responding tech support is an asset for a good company that offers hosting services. This support should be available 24/7 and reached via email, phone, or a ticket system. They should perform tasks that include but are not limited to:
Selecting and installing OS
Protecting from DDoS
Configuring the server
Tuning HTTPS connection
Installing SSL
Creating and tuning email accounts
… and more.
Backups
You need to make sure your web host provides website backups. A trustworthy server is the one that allows you to store copies of your website and retrieve them upon request. If some or all information is lost, you can always use a backup copy that should be stored on a separate server.
Control panel
You should be able to control your website through a user-friendly control panel. Your service provider should have this feature as well. Intuitive control panels allow you to make minor changes to your website without someone else's help. Check if the hosting company you're considering uses control panels such as cPanel, Plesk, or similar services.
Hosting services: A brief overview
Once you choose your perfect web hosting provider, you must decide on the type of web hosting service. They are known as shared hosting, a virtual private server (VPS), a dedicated server, and cloud hosting. Different companies focus on separate kinds of hosting or can offer all of them. Make sure you research the company's website to learn the services on offer.
Shared hosting
Shared hosting involves one server which hosts multiple sites. The resources and space are shared and distributed among all users. This type of hosting is usually chosen by small websites.
VPS
A virtual private server allows you to host your website on a server where other sites are hosted. But the main difference is that you get resources and space solely for you. It basically means that your resources and space belong to you even though you're on the same server with others. When you outgrow the capacity of shared hosting, it's time to think about getting VPS.
Dedicated server
With a dedicated server, you can leverage all it has to offer. The resources and space belong to you and there's no one else using the same server.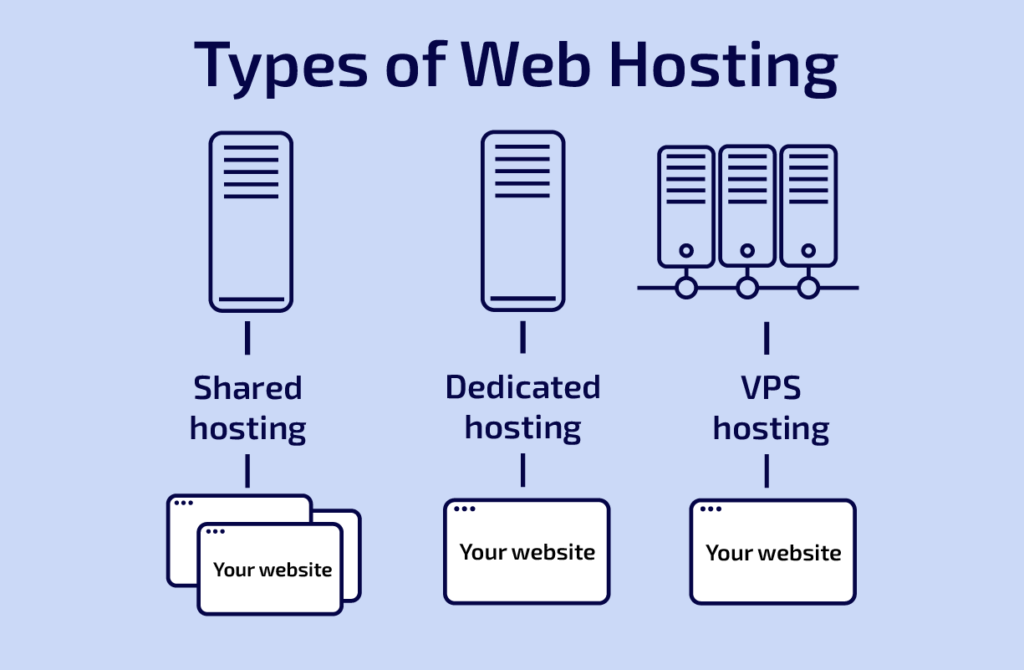 Cloud hosting
With cloud hosting, the hosting capacity is not limited to a single server, but rather a giant cloud where resources are distributed among all users. You end up paying only for the resources consumed. Cloud is good for those who have fluctuations in traffic.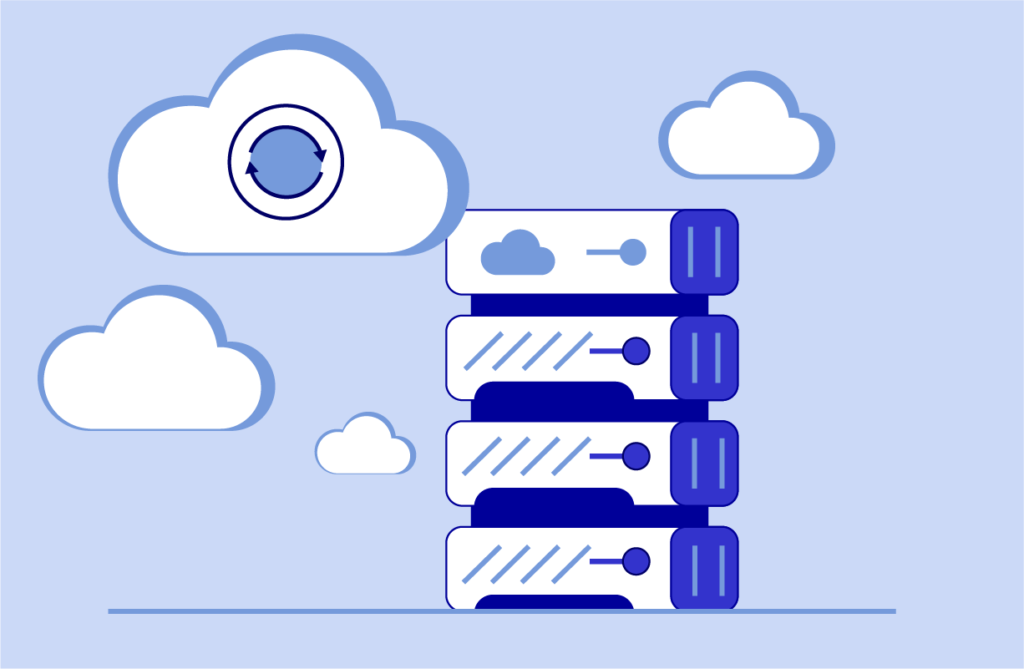 Now that you know about each type of web hosting service, it's time you choose hosting that caters to your needs.
How to choose the right hosting solution
You can get lost in all that variety of pricing plans if you visit a page of some web hosting provider. But let us first draw your attention to your business, namely your website, because that's where you should begin. You must know the size of your site, what you're going to use it for, and the number of traffic coming to your resource.
Once you answer these questions, you can dive deeper to study what you'll be paying money for. You'll probably come across such terms as SSD, CPU, RAM, and bandwidth. They are essential and you'll choose a hosting plan based on their metrics.
SSD
Solid State Drive (SSD) storage or an alternative storage device holds all your data. If your website is composed of many elements such as files, videos, or pictures, you will require more space to store those. As of today, the fastest and most efficient storage system is represented by NVMe drives. They are able to speed up your site and help it reach top rankings in search engines.
RAM
Random access memory (RAM) is the memory you need for temporary data storage. If your site is small with a little number of dynamic elements, you won't need a lot of RAM. However, if you receive high traffic and your website uses a Content Management System like Drupal, Joomla, or WordPress, you will require more RAM than other sites.
Bandwidth
Bandwidth allows website data to travel from the server to the visitor. The amount of bandwidth you need depends on how much traffic your website gets. If you have lots of users who interact with your website, you must increase bandwidth. Usually, providers offer unlimited bandwidth.
CPU
CPUs or central processing units are responsible for handling all requests and processes on the server so that the visitor can see and interact with your website. CPUs consist of cores that help your server process those requests. You usually come across CPUs in VPS plans or dedicated server plans. If your site receives heavy traffic and there are many dynamic elements, you'll probably need more CPUs not to overload the server.
Bad hosting is history
Your business needs high-quality hosting to let your website be up and running. Slow sites can repel visitors and lack of security can cost you a lot of money in the long run. To make your website accessible and reliable, you need to partner with an expert provider with a dedicated tech support team. This will ensure a seamless experience for your clients every time they interact with your site. If you're still unsure which hosting plan is beneficial for your business, contact us. We'd be delighted to provide you with good advice and even better hosting!