You have a blog niche and you know that you need a domain name and hosting for your blog. Now is the time to think of the tech aspect and decide how you're going to build your blog. Instead of creating a custom blog, you can utilize tools that work like a Lego set. These tools are known as content management systems (CMS) or blogging platforms. A CMS or a blogging platform is the best place to start a blog if your resources are limited.
A blogging platform allows you to build your blog, host it, and manage the content. Generally, a blogging platform resides on a dedicated server, offering no access to the full source code. For example, Tumblr and Blogger are free blogging platforms. Since the blog is hosted by the platform itself, the blog name will contain the domain name of the platform.
A CMS, on the other hand, differs from a blogging platform. With a CMS, there's more control over the look and feel of your blog. Additionally, a CMS lets users add plugins to expand the functionality of a blog. You can brand a blog unlike with the blogging platform. When choosing a CMS, you need to purchase a domain and web hosting. Some popular CMS examples include Joomla, Drupal, WordPress and more. Let's take a closer look at WordPress.
WordPress CMS
With the right CMS, you can learn how to start a blog free of charge. The most popular CMS out there is WordPress. The CMS powers more than 75 million sites on the internet according to isitwp. You can find WordPress with two extensions: .org (free open source CMS) and .com (commercial version of the CMS). We'll look at how to start a successful blog with WordPress.org — the best blog platform for monetization — where you get to craft your very own writing and publishing space.
How to set up a blog on WordPress.org
You need to host your blog before you actually go on the web. You can either turn to a hosting provider or go to the WordPress official site and download and install the CMS yourself. Either way, you need to host it. At HostPro, we can offer managed hosting services and WordPress installation in just a few clicks. Hosting your blog for free can lead to many problems and technical issues down the road.
Pros and cons of using WordPress
Knowing how to make a WordPress blog is one thing, but you really have to get to the bottom of this blogging business by weighing the pros and cons.
Let's broaden your horizons and look at other tools so that you choose the best blogging platform.
| | |
| --- | --- |
| Pros | Cons |
| User-friendly CMS. Since WordPress takes its roots in blogging, it allows everyone to use the CMS for publishing content. You don't need to know how to code in order to edit pages and upload new content. | Updates can be an issue. WordPress releases updates for its themes which can be troublesome to follow unless you have a managed hosting service. |
| Available plugins. The plugins offered by WordPress can customize and enhance blogs. If you need to change the functionality, there's probably a plugin to get the job done. | Be aware of vulnerabilities. Since WordPress is an open-source platform, you must be cautious about which plugin and WordPress blogging theme you choose. Check the quality of the plugin or WordPress theme for blogs you are about to install because you may suffer an attack from a hacker that takes advantage of poorly designed tools. |
| SEO-optimized. WordPress has thought about and included SEO best practices. You can choose an SEO plugin that will help you optimize content and meta tags, direct your keyword focus and much more. | Speed can suffer. The speed can decrease causing slow load times because of certain themes. Some themes may contain generic code. Without prior knowledge of WordPress, you won't be able to understand which part of code you can do without. |
| Responsive design. WordPress is adapted for desktop and mobile devices which makes it responsive. This responsive design signals to search engines that a blog built with this CMS is mobile-friendly. Mobile-friendly blogs are ranked much higher in search engine results pages (SERP) than regular ones created for desktop devices. | |
Tilda
Tilda is a website builder that allows you to create landing pages, multi-page websites, online stores and, most importantly, blogs. With Tilda, you can create a blog and style it without any help from developers and designers.
How to set up a blog on Tilda
To set up a blog on Tilda, you need to register on Tilda's website. After registering, you will receive a welcoming email to your inbox. You need to confirm your email address and follow the link that lets you start building and editing your newly created blog. Tilda offers 450+ blocks and interfaces to let you create a stunning look for your blog.
Tilda pricing plans
With this website builder, you can choose a free plan or pay if you want more features. There are two paid options: Personal and Business. If you choose one of these, the service lets you pay annually or monthly. If you choose to pay annually, the service will charge you $10 for the Personal plan. In the case you want to pay month to month, the price will increase to $5. Whatever plan you choose, make sure it aligns with the goals of your blogging experience in terms of features and functionality.
Is Tilda good for blogging?
Before you actually try Tilda, you need to know its good and bad. With a clear picture in mind, you can make an informed decision.
| | |
| --- | --- |
| Pros | Cons |
| Responsive design. All pages look stunning across all devices due to the responsive design Tilda implements. | Hard to get used to. Tilda is not the easiest tool out there and requires some time to get used to. You have to have an eye for design as well. |
| Custom block creation tool. Tilda allows you to create a website design from scratch. You can either use the existing blocks or utilize Zero Block. With Zero Block, users can create custom designs and edit their websites. | Excessive integrations. There's a lot of focus on integration. Tilda offers the functionality of other services you may want to add to your project. It may be hard for a newbie to implement though. |
| Pleasant typography. Typography is key if you want your site to be stylish and easy to read. Tilda has taken care of line length, spacing, font sizes and more to make your website suit any kind of content. | Limited web pages. If you're going to build a blog with Tilda, expect that you can use only 50 pages per website. |
| Visual content. Visual content is crucial if you want to communicate your offer or story eloquently. With Tilda, you can play with video covers and photo combinations to make your pages more eye-catching than a boring layout without any visuals | Limited features in a free plan. If you choose the free plan, you don't have access to all features. You get a basic set that includes Tilda CRM, a mobile-friendly feature, a built-in tool for creating custom blocks, and a few more perks. If you want to view analytics and SEO or have the ability to add HTML code, you have to purchase the Personal plan. |
| SEO tools. If you want to get found online, your site needs to be SEO optimized. Tilda lets you leverage SEO tools such as H1 and alt tags, meta titles and descriptions, 'clean' URLs and sitemaps. | |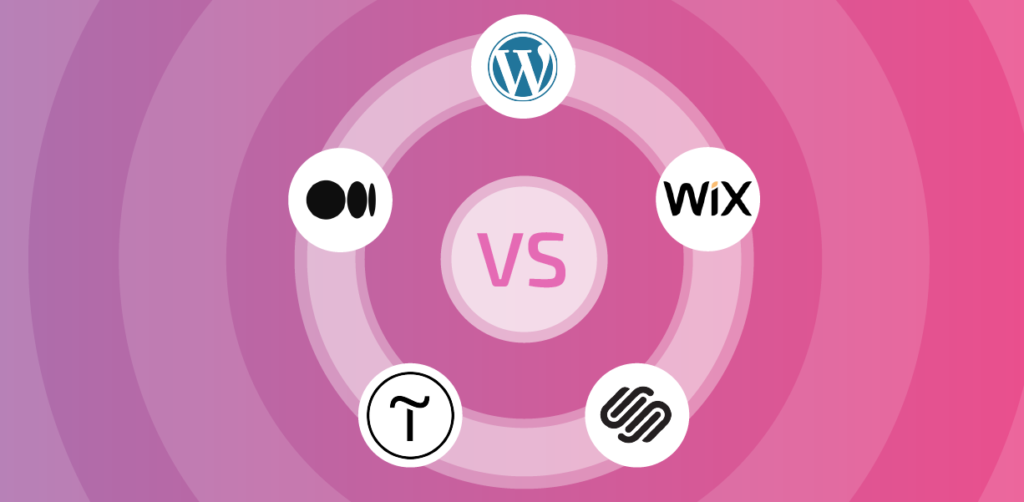 Squarespace
Squarespace is a relatively new platform and website builder which is crafted for blogs, portfolios, and online stores. The platform has over 100 templates for branding, storytelling, and transactions. Squarespace updates its service from time to time so it may take you some time to get used to working with the platform.
Things to look for in Squarespace: The pros and cons
You want to settle with an impeccable blog and the platform promises fresh and cool ideas. However, you should be realistic and consider both pros and cons of this website builder.
| | |
| --- | --- |
| Pros | Cons |
| Ease of use. Squarespace is meant for those who want to create a blog without coding. And that's what is amazing about the service! You select a template you want to work with and start editing it. | Hard to change. The beauty of themes highly depends on the images used in them. If you want to change the images, it can make your blog look less appealing. |
| Unique look. The tools the service offers let you create a unique look and feel of your blog. Also, Squarespace provides the best designer template matches and other functional site options to ensure a clean and customizable blog. | Usability issues. There are at times too many clicks you need to do to finish your editing process. For instance, you have to manually save your changes and the sitewide undo button is absent. |
| Hosting and updates. Squarespace is responsible for hosting and updates. As a result, you neither look for a web host, nor do you have to take care of software updates. The Squarespace team is there to ensure the unbreakable work of your blog. | Limited subnavigation. If your blog requires a deep menu hierarchy, you won't be able to create it. Nor can you create a multilingual blog. |
| Mobile apps. Squarespace has created mobile apps for iOS and Android, allowing you to edit blog posts on the go. | No backups. If something goes wrong or you become a victim of cyber attacks, you cannot request a backup (a copy of your blog). The only feature Squarespace offers is the export of product and blog data. |
| Ad-free. When you purchase a plan, you can work with ad-free artistic and modern designs. | |
How to start a blog on Squarespace
If you want to try blogging with Squarespace, go to the official site and choose Blogging in the Products category. The service will suggest a dropdown menu where you need to choose the Blog category again. After choosing this category, Squarespace will suggest the best templates for creating a blog.
Squarespace will walk you through a small questionnaire to better understand your purpose and needs. You can register through your Google, Facebook, or Apple account. Or you can use another email. You can start creating and editing your blog right away. The service gives you a trial period for 14 consecutive days. After the trial period is over, you have to pay. More options will be revealed when your test period is over.
Squarespace pricing plans
Squarespace billing is divided into monthly and yearly payments. If you choose to pay on a monthly basis, it will cost you $16 per month. With the annual billing, you get to save 30%. Squarespace doesn't offer a free plan. Therefore, you will probably choose the Personal plan. The Personal plan has all core features which include but are not limited to blog templates, an SSL certificate, unlimited bandwidth and storage.
Wix
Wix is a cloud-based website builder designed for small businesses and personal use. The platform is famous for its designer-made templates and easy drag and drop feature when editing pages. Before you choose Wix, consider its advantages and disadvantages.
| | |
| --- | --- |
| Pros | Cons |
| No tech skills are required. Wix is a website builder that empowers less tech savvy individuals to make a blog quickly and easily. You can edit your pages without a single line of code. | Slow speed. Wix cannot cater to large projects. Thus, websites can run slowly if they accumulate lots of pages. |
| Low risk. The website builder has a free plan, so you can test and play around with the website builder. This way you can understand if this service meets your needs. | Lack of live support. You can hardly reach Wix's support, you have to run your query through their rich knowledge base and try to find the answers there. |
| Multifaceted. The Wix App Market can enhance your blog with additional features. The features you can leverage include but are not limited to email marketing options, push notifications, smart pop-ups and forms. You'll have to pay extra to implement these features into your project. | Hard to move. If you eventually decide to move your blog away from Wix, you'll find it considerably hard to do so. |
| Fully hosted. With Wix, you can enjoy the free hosting that comes along with whatever plan you choose. However, storage and bandwidth will be limited. | Excessive ads. If you want to use a free Wix account, you'll have to put up with Wix's branded ads. To remove those ads, you have to upgrade your plan to the paid one. |
How to set up a blog on Wix
To set up a blog on Wix, go to the official site, scroll down the homepage and find the Personal blog section. Click on the Personal blog section, choose the most convenient way for you to register, and go through the questionnaire. At the end of this short questionnaire, the service will let you create a unique blog using the suggested templates. Or you can do the questionnaire and the program will suggest a theme for editing right away.
Wix's fees
The number of features you get depends on the plan you choose. The cheapest and most basic plan costs $4,5 per month. The most expensive plan totals $35 per month, giving you the full suite of features such as SSL certificates, the ability to receive online payments, live chat options and much more.
How to blog on Medium
Medium is a free blogging platform for writers. It's actually very popular among bloggers since it offers great web design, readable formatting and requires no technical expertise whatsoever to get started.
'Is medium a good blogging platform?' you ask. Like all of them, Medium definitely has some things to brag about and things that leave more to be desired. Consider these pros and cons and learn how to create a blog on Medium.
| | |
| --- | --- |
| Pros | Cons |
| Beautiful interface. Developers and designers, who were in charge of creating Medium, did a great job. You can enjoy pleasant fonts, layouts and formatting across all devices. | Tough competition. Medium has attracted a lot of brands, which is why the competition can be tough. The odds are high that there are others writing about the same field you are. Therefore, it can be hard to stand out unless you have an ace up your sleeve, namely a distinctive feature or a specific niche with a deep dive into the subject. |
| Massive audience. Medium is unique as it places an emphasis on people rather than ads. Every writer is free to express their point of view and provide more than 200 million visitors with an uninterrupted reading experience. | Hard to acquire a vast readership. Medium does have millions of readers, but you will have just a fraction of that audience to read your copy. You have to work your way up to gain traction. Unless the readers are reaching out to you, you'll be further building up Medium's authority not yours. |
| Publishing tools. To connect the audience and create a following of devoted readers, Medium offers flexible and creative tools. Not only can you create a personalized home for your copy, but you can use its intuitive editor, add a logo, and bring your layout to perfection. With the built-in analytics tool, you can see what pieces create momentum and which need revision. | Losing your online influence. You may have worked hard, written valuable content, and built a devoted following, but the platform can change its policy or even move offline. This is a futuristic statement, but you should keep that in mind. You're kind of 'renting Medium's space'. A time may come when your hard work can go down the pan when they decide to close. |
| Partner program. You can even earn money if you join Medium's partner program. Otherwise, your stories will be available to everyone for free. | No ownership rights. Since it's a well-designed platform, there is no chance for customization. You can't add any calls to action, pop-ups, or a custom line of code. You are also stuck with their content strategy. For example, when Medium suggests articles at the end of your copy, it will be likely to suggest other writers' articles that are somehow related to what was in your piece. |
Getting started with Medium blogging
The best way to start a blog on Medium is to go to its official website. Then you need to sign up using the option available (either through your Google, Facebook, or Twitter account). After the registration and becoming a member, you get to create your personal profile in the menu. If you want to start writing, go back to the menu and find the Write option, click on it and you'll land on the drafting page. The interface is straightforward and you get to design your personal space. When you are done, you can click the icon with your picture, choose the necessary option and start writing your story.
Blog with excellence
If you care for nothing but to share your ideas, choose Medium, the best blogging platform for beginners. It's easy to get started with and you can save yourself the trouble of figuring out which templates to use and modifying your layout.
On the other hand, if you want to stand out, choose a website builder with the ability to change the look and feel of your blog. In some cases, you can even add custom code if you want.
If you're willing to create a fast blog that can welcome tons of visitors, go with WordPress. Make sure you order hosting that can live up to your expectations. At HostPro, we can take care of your hosting experience, delivering top speed and unrivaled customer support!