Your blog is live on the web. Now comes the most obvious and necessary part — blog promotion. Your blog needs it just as you need the air to breathe. Make yourself known in this busy world, otherwise, your great content will be lacking due consideration.
Email marketing
Email marketing is defined as a strategy designed to distribute promotional messages to a target audience through email. With proper email marketing, you can encourage people to purchase products or services, improve brand recognition, and increase customer loyalty. Speaking of blogs, email marketing can let your posts come to the right audience, who are interested in what you write about.
Advantages of email marketing for promoting a blog
Email marketing can open new opportunities, which is why it comes with a number of sizable advantages.
Connecting and building relationships
Through email marketing, you can connect with your readership directly and instill trust. If you provide readers with tailored content, they will come to know and like you. There are no other mediators, there's just you and your readers. The key here is to create a visually appealing message to increase your open rate.
Timely and cost-effective campaigns
Traditional marketing is both resource and time-consuming. You probably don't even need it because your content is meant for the online audience. Using email to send out your newsletter can save you lots of precious time and reach your target audience faster. You can choose when to send your newsletter and spend less time (maybe half a day) to create the design and content for your newsletter. Consequently, you end up saving money as well. Just imagine how much you could have spent on a print campaign. More than that, you can get revenue from the leads generated after the campaign you launched.
Contact list is solely yours
If you build your activity on social media, you can easily lose your readers and the content you publish when your account is suspended or banned. This can happen if you've violated rules, even if you had no idea you were violating them. When you generate your list of contacts through email marketing, it belongs to you and the control over this list is yours.
Collecting data via surveys and questionnaires
Email marketing is a powerful tool that helps you gather data about your readership. By creating surveys and questionnaires you can better learn about your audience to cater content to their needs and preferences.
Online marketing is highly based on personalization and email marketing, in particular, should pick up this trend. It sure has. To make your readers appreciated and special, you can personalize your email list. You can easily segment your contact list by location, latest interaction with your blog, or any other metrics that make sense. It all depends on the mail service you're using.
How to create a contact base
When your blog is live, you should start building your contact base. This is indeed challenging given people's reluctance to share their contact details. However, if you create valuable copy, readers have a reason to come back for more and will appreciate the email subscription. Therefore, you need to think about creating a subscription form in advance. Subscription forms can motivate readers to sign up which will give you regular visitors to your blog and will positively influence your ranking.
You can place your signup form in the header or footer. Or you could leverage a popup form (but it may be quite irritating at times). The best practice is to place your signup form in the right-hand bottom corner of your blog or let readers subscribe after they read your article.
Your signup form has to be relatively simple to complete. The information you ask people to fill in should be sufficient to help you send them the right content. You can create a list with categories and let readers check the boxes to make the process faster.
How to do the mailing
Utilize an email service that can help you structure your email marketing campaign. ConvertKit, AWeber, or Mailchimp allow you to start for free. When you get over 1,000 subscribers you have to pay the service provider a monthly fee. The fee varies depending on the number of subscribers you have.
Some major mailing service benefits include:
Automation. You can easily schedule your mailing and send emails to multiple readers.
Various templates. You can create visually appealing emails that can be viewed seamlessly across multiple operating systems.
Detailed analytics. You can track how subscribers interact with your email.
Mobile-friendly design. You can make your emails look good no matter what device they are being viewed on.
Before you actually send your email to your readership, run a test and send it to yourself. Correct all errors and typos. See if the links you've used in your email lead to the right page and the CTAs are clickable. Use one CTA to help your readers understand what is expected of them. Too many CTAs tend to confuse readers.
When using an email service, you get to tap into the world of analytics. You will be able to track how many emails were read. By understanding when your emails get the most read-throughs, you get to adjust your mailing campaign.
Besides email marketing, you can promote your blog on social media, which is a common practice for brands and businesses.
Social media promotion
You're probably registered on at least one social media platform. Social media platforms allow you to socialize, read the latest news, and amuse yourself. Additionally, social media platforms are used to promote products and services along with useful information such as articles and blog posts to billions of people. According to the 2021 Social Media Marketing Industry Report, more than half of marketers have reported sales growth since the time they started using social media. Social media marketing (SMM) does come with a number of advantages.
Benefits to social media marketing
You should definitely try an SMM campaign to make your blog known. Here are some benefits you get when leveraging SMM.
Advertising has moved to social media platforms, and if you want to promote blog posts, you should definitely move there too. You can reach a large audience at a relatively low cost with social media marketing given the registering and posting cost you nothing.
Without marketing your blog posts on social media, you're limited to your own blog. You want to go further than that, which is why you need constant interaction on social media platforms. By posting regularly you can win your readers' loyalty and trust. Besides engaging content, you can offer free inexpensive giveaways (stickers, hats, T-shirts, etc.) and ask your audience open-ended questions or create prize competitions.
'Sharing is caring', they say and it's true. When your content resonates with readers, they are more likely to share it with peers. Not only is social sharing easy, but it's also an efficient way for your post to go viral in a short period of time, increasing your overall social visibility.
It would be great if you could connect with like-minded bloggers. Building ties with other bloggers can open up new opportunities for you in terms of content promotion. You can make a deal with other bloggers to crosspost content on their social media pages.
Search Engine Optimization (SEO) is closely connected with SMM. You can transform your social media platform into an SEO weapon. The links you leave on a social media platform can improve your search engine results and the platform itself will serve as a link-building tool. (To make your links shorter, use the Bitly service).
How to promote your blog on Instagram
Initially, Instagram was created to let people share images. As of today, it's a platform with more than 1 million active users who share posts, increase sales and raise brand awareness. If you want your blog to grow, try promoting it on Instagram.
SEO-optimize your bio
Instagram-to-blog traffic is your ultimate goal. But you need to remember that you can leave a link only in your short bio. A bio should be no more than 150 characters long. Hence, you have to convey who you are and what your blog is about within the limit.
Post stories
Another way you could use to drive readers to your blog is by posting stories that serve as a preview to your next blog post. Or you could show what happens behind the scenes when you're writing your next post. You could show your workspace or post a teaser (a piece of the post you're working on). This way you'll be able to connect with your audience on a more personal level.
The images you choose for your posts on Instagram should be unique. Remember that Instagram's main feature is to make any picture you've taken awesome and increase engagement. You can clip images, use filters, and create captions. For better visibility, use relevant hashtags that help Instagram users find your publications.
Besides images, you can utilize video content. According to Instagram Business, video is to capture more than 75% of mobile data traffic. With Instagram, you can create 60-second videos.
Leverage Instagram Ads
Instagram Ads lets you run an advertising campaign that can reach audiences you're most interested in. For instance, you can target an audience by demographic, user interests, or user behavior. Content promotion can fit any budget and allows you to send people directly to your blog.
There are photo ads, video ads, and carousel ads that let you market your blog on Instagram. Your posts will be labeled as sponsored and will appear on the home feeds of users. Users will be redirected to your blog as soon as they tap the button with a call to action.
Instagram's Insights tool
To shape your content strategy, you can create an Instagram Business account and gain access to its analytics tool known as Insights. With Insights, you can check useful data in regard to your page visitors. You can see post engagement statistics and demographics to adjust your content type and posting schedule.
Facebook promotion tips
According to a recent Social Media Marketing Industry Report, more than 90% of marketers are using Facebook for advertising purposes and that's because this platform still tops the list.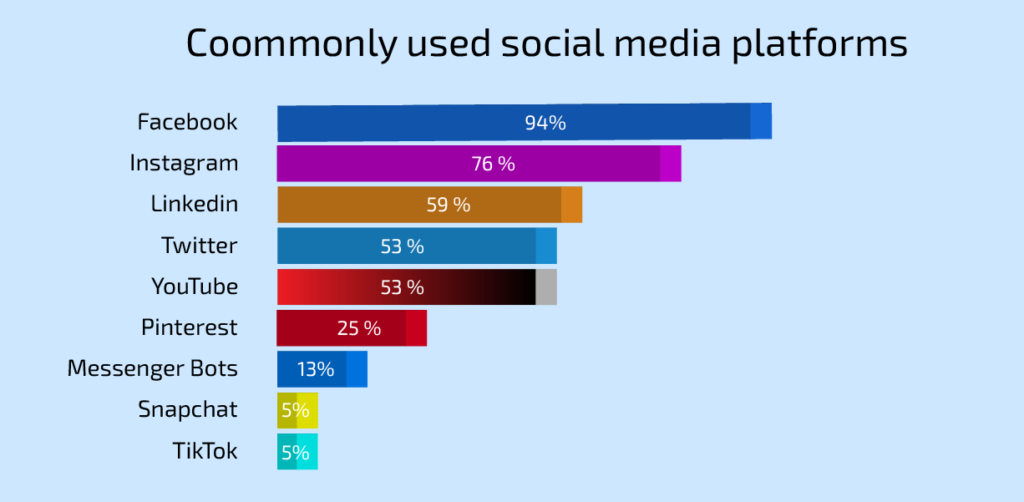 Create a business page
First and foremost, create a business page that's different from your personal page. It will be like a brand page. get a vanity URL as well. A vanity URL is a link that contains your brand name instead of random numbers and characters. You need a vanity URL to appear professional on the social network. With a business page, you get access to valuable analytics to help you track engagement with your publications and adapt your marketing strategy accordingly.
Keep your content varied
It's recommended to stick to the 70-20-10 rule when you are publishing something. 70% fall under the publications that are original. 20% go to relevant content and only 10% make up the publications of promotional value. You can post 4 types of status updates to your Facebook newsfeed: link updates, photo updates, video updates, and text updates. Above all, you want to promote links to your blog posts. But you can also publish other additional publications to ensure proper interaction. For instance, you can create a poll, throw in a question for your followers to answer, or let them participate in a contest.
Get your first likes and boost your posts
You can ask your colleagues, family and friends to be the first ones to like your posts. This way your post will be seen by other people in their network. As soon as you get likes, you can boost any post which will allow you to reach more people.
Boosting your publications is a paid option and you can do it any time. With the algorithms Facebook uses, you can reach people who are potentially interested in your content. You get to select who you target with your post, set the budget, and choose the duration.
The targeting options vary. You can let people who already 'liked' your page see the post. Or you could select a totally new audience. For instance, you could target those Facebook users who 'like' pages of your competitors.
Make use of Facebook ads
Advertising is essential if you want to be known among your chosen niche. Therefore, you can leverage Facebook ads. Facebook ads help you target people by location, interest and even purchasing behavior. You get to add a CTA button that can lead visitors to your blog. You will be billed per click. You can compare industries price-wise in the infographic by WordStream.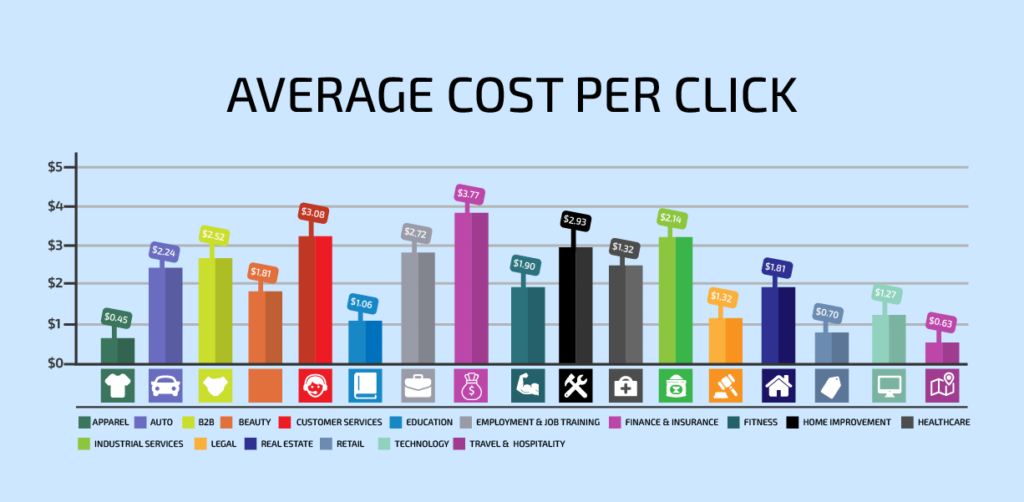 Socialize and be active in relevant groups
Facebook has lots of different groups with existing interactions. You should definitely become a member of those groups that somehow relate to your niche, joining in on the conversations.
Facebook groups are also a place where you can share your blog posts, offering solutions to people's problems while also getting your blog seen by others. Do it in a non-intrusive way, especially when your posts do match the query.
How to use Pinterest for blog promotion
Pinterest is a bookmarking platform used by small businesses and bloggers in order to drive traffic to their sites. The platform serves as a search engine, sales funnel and can rank well along with other content in search results. Additionally, Pinterest has a vast audience. For instance, there are over 100 million American users who visit the platform according to Statista. Pinterest can feature pictures, GIFs, or short videos.
Choose the right account
To feature your pins on Pinterest you have to register. You can either create a Business account or a Personal one. Each one offers different services. When registering with the Business account, various commercial features open up before you. You can use Rich pins (pins with more information), promoted pins, and utilize Pinterest Analytics. These services, however, are not available if you use a Personal account. With a Personal account, you simply get to create pins and post them on boards. To make your brand more humanized, use your headshot in the profile picture instead of a logo. Such a personal gesture will help Pinterest visitors connect with you.
Make your profile easy to find
Pinterest uses algorithms to analyze what your profile is about based on the boards you have and things you pin. To give the platform the right signal, choose a short title for your page in order to make your niche known. Additionally, use keywords in the description section to be able to pop up in the search results.
Post high quality pictures and relevant content
Pinterest is all about visuals. Therefore, the images you post have to be of good quality and enticing. They may also include some text, but try to find the golden mean between the image and text you use. A picture is the core attention getter. Enhance the image with a short caption. The key thing here is that you can place a link right to your blog where pinners can read the full copy.
Pinterest lets you create multiple pins for the same blog post. However, be sure to post your pin to the most relevant board first. You can experiment with the title of the same post to see which one arouses more interest after analyzing your traffic behavior. Pinterest's algorithms can analyze your post and the title. Your pin title must be relevant to what you write about in your post to receive due exposure.
Engage with popular boards
Pinterest lets you engage with other popular boards which already have an audience of their own. By following the most popular boards and commenting on their pins you can attract the attention of their followers to your blog. Join the boards that relate to your industry.
Expanding your blog audience with Twitter
Twitter was created with the intent to provide users an opportunity to micro-blog. It actually grew to a powerful social media platform that boasts 192 million active users. Not only is Twitter a social platform for people to exchange breaking news, but it is also a powerful self and brand promotion tool. If you have a blog to promote, try Twitter and find your audience.
Place the social icon on your blog
First and foremost, add a Twitter follow button on your blog. Readers who hang out on Twitter can easily connect with you. Make sure you also add a Twitter shareable button on your blog posts so that readers could quickly share your content with their followers. Other than that, you can create shareable quotes in the body of your blog post. Shareable quotes allow readers to share them directly to their Twitter feed which means greater exposure.
Create an enticing bio and picture
You get to describe yourself and what you do in the short bio section on your Twitter account. In a succinct way, try to get to the essence of your activity. Come up with a picture that can instill credibility. As a rule, your headshot would make your profile more personal and relatable.
Come up with a workable posting schedule
To keep your audience engaged, post regularly and quite frequently. To help you come up with a schedule, leverage Twitter analytics that can show your engagement with posts, likes, and more.
Use content that catches people's attention
Even though Twitter is a micro-blogging platform, it lets you post memes, GIFs, videos, screenshots, links, and pictures. Eye-catching content can ensure more interaction and impressions with your tweet. Expand your tweets beyond text and see what your audience likes by analyzing the engagement you get.
Utilize hashtags
Twitter found that tweets with hashtags had double the engagement than those without. Therefore, include hashtags in your tweets to get noticed. You can tap into trending topics that somehow relate to your niche, utilizing hashtags. It's best to use hashtags at the end of your tweet, better yet include them in the body of your tweet. Try to use not more than two hashtags. Otherwise, your tweet will look spammy and be difficult to engage with.
Engage with influencers in your niche
Twitter is a highly dynamic place with straightforward, bold audiences and pronounced thought leaders. Be genuine and share other people's content or tag them to get yourself on their radar. They are likely to pay back the favor. Reach out to influencers in your niche and engage with them by leaving comments and retweeting their tweets. Show interest and get the exposure you need so much.
Buy Twitter ads space
If you're really into promoting your blog using targeted marketing, you can leverage Twitter ads. With Twitter ads, you'll reach people that you specify as your target audience. Instead of looking for followers manually, targeted ads can reach larger audiences and motivate people to follow you.
Be active in Twitter chats
Engage in Twitter chats to be seen by potential followers. Twitter chats can attract attention to you and your blog in an informal, conversational manner. What's more, you get to put out content where people are interested in the same field you are. You'll be able to display your authority in the field by speaking to the community and sharing articles that address specific pain points.
Usually, Twitter chats have a special hashtag you can find them by. Let's say you are writing about WordPress on your blog. You could try a #WordPress hashtag to look for chats devoted to WordPress. You can share somebody's answers or leave a comment to get the conversational ball rolling. Most Twitter chats are held on a regular basis by a host who comes up with a topic to discuss.
Once you acquire an audience around your primary social media accounts and blog, your next step is to keep them engaged and entertained. Since over 46% of people worldwide research products or brands online according to Digital 2021: Global Overview Report, an engaged audience is crucial for a brand's success. Think of ways to lure and entertain your demographic with meaningful online interaction.
Engaging audiences through competitions and giveaways
As a blogger, you have your own brand to promote by creating worthwhile content. This is no news, right? Besides quality content, you could try holding competitions to boost engagement as well as increase brand loyalty.
Getting started with meaningful interaction
Before you start any competition, think of your ultimate goal. You may want to acquire more:
Subscribers to your newsletter
Blog readers
Social media followers
User-generated content
Engagement
Word-of-mouth advertising and brand ambassadors
Sales
…or any other goal you may be pursuing
Types of online contests
After you define what your objective is, you can decide which type of interaction is best suited for achieving that goal. There are many contests you can run across your blog or social media. Let's go over some popular ones that can generate interest among participants.
Giveaways. One of the easiest contest types that lets users win a prize by following simple instructions. You can ask entrants to complete a survey, refer a friend, or use a hashtag with the hope to win. Giveaways are purely based on luck and can grow your follower base while creating brand ambassadors.
Vote contests. These contests allow your audience to connect with you and be heard by providing their vote and expressing an opinion through a poll for instance.
Video contests. These competitions require more input on the audience's end. However, such contests are perfect for collecting user-generated content which you can use later on in your marketing campaign.
Photo contests. Another way to engage users is to create a photo competition for them. This type of contest allows you to get user-generated content and increase your follower base.
Virtual scavenger hunt. This contest can challenge your visitors and make them hunt for certain information across your blog or social media pages you manage. This type of competition is perfect for inquisitive individuals and can bring more traffic to your blog or social media pages.
The efforts entrants put into winning ought to be rewarded accordingly. Think of a prize in advance. You can reward the winners with:
Cash
Gift certificates or large discounts
Free products or services
Themed prize bundles
Sticker packs
T-shirts
Devices
Another way to go when rewarding your winners is to give them sponsored gifts. To do this, you should reach out to brands whose products can benefit contestants or entice them to enter the competition in the first place. If your blog is product-oriented, you could find so-called 'angel' sponsors who could provide you with a couple of product samples in exchange for a product review or social media promotion. You have nothing to lose. Nothing ventured, nothing gained you know.
Attributes of a successful competition
Apart from coming up with a gift, you'll have to promote your contest somehow. You will have to prepare in order to spread the word about the competition. To do this, you will need:
Competition rules or legal guidelines (e.g. GDPR compliant instructions)
A competition web page/banner with relevant video or image of the prize
A separate video or photo of the prize
A contest hashtag
A widget that helps contestants enter the competition
Social media ads to promote the contest
Themed cover photo for social media networks
Email templates
Content to promote and explain what your competition is about
These are just a handful of basic things you may need. Everything depends on your contest and its scope.
User-generated content considerations
In the case when you're holding a contest where users need to submit something, you have some sort of liability. If contestants submit photos, their work or content they own the rights to, the owner can sue you if you use that content elsewhere without the owner's consent.
Quite tricky, isn't it? If you want to use submitted content in future marketing campaigns, you have to receive permission from every entrant who submits their original work or photo.
When running a contest or giveaway, there are also external rules you will have to face. These rules are imposed by the platform you're hosting your contest on or the region where entrants are coming from.
For instance, if you're running a giveaway for US residents, you can't ask your entrants to buy something to receive a present. If your present exceeds an allowed sum, you have to report it to the legal entity in some regions. You cannot ask your entrants to like your Facebook page in order to take part in your giveaway or contest because you have to follow Facebook guidelines as far as promotions go. If you are using a third party platform to run your competition, you have to comply with the rules of that platform as well. That said, you have to research what regulations you need to follow so as to conduct a contest for the region you're interested in. You want to avoid lawsuits and lawyers by all means.
Technical implementation
Now that you know the basics, think of how you're going to implement it technically. If your blog is custom developed, you'd probably have to add a block of code that will be responsible for the contest. If you lack technical knowledge, contact your software developer and provide them with a clear logic of the contest you're going to run. With clear guidelines, the developer will translate your idea into a workable web page.
If you're using a ready-made software solution such as a CMS, you can look for the necessary plugin with the functionality that fits your contest type. These tools let you create contests and giveaways within minutes and integrate them with popular email marketing services and social media platforms. Additionally, most tools allow you to create mobile-friendly contests, track the process, and set fraud protection. Some tools are paid, some are free. If you opt for the paid ones, the price will vary in relation to entries and traffic metrics or functionality you need.
If your blog was created with the help of a website builder, you may have trouble running a contest. It might be possible if you use custom code. Although you're welcome to use custom code to modify your blog, note that the website builder support team will be unable to offer assistance or troubleshooting for any modifications or additions, due to their complex nature. Sadly, custom code modifications may cause unwanted results when interacting with the platform of choice, templates, or updates the platform chooses to release.
Most website builders come with documentation where they share resources for using custom code. Those guides list where you can add code to your site and go further into restrictions. Make sure you study this information to be able to understand the limits you can play within.
Last but not least, decide how you will select the winners. You can choose them at random by means of some randomizer like namepicker.net per se. Or you could rely on voting. You could let your audience vote for whatever the entrants need to submit. You could also assign relevant judges who will choose winners according to the predefined criteria.
Online engagement at work
Any type of contest can arouse interest, ensure engagement, and create a positive rumor around your brand. When choosing a contest type, think audience-wise and niche-wise. Come up with an activity that can entice people to enter the competition. At the idea's inception, decide how you're going to reward winners and find out whether it's possible to implement your contest idea technically. Create rules that will guide the participants and choose the happy holder of the prize.
Blog promotion success is your objective
Your readers want to be connected to the person behind the blog. Email marketing, social media promotion and running a giveaway are sure ways to let your readers know you care and appreciate them.