Hosting is not just a space where you can host your site. In order for everything to work at the highest level, you need to pay attention to the administration, configuration, and upgrade of your hosting, and all programs that provide speed, reliability, and security. What do you need in order not to worry about your site? Let's consider managed hosting. This means that the company is responsible for the day-to-day management of servers, system hardware, and system software. Hardware and other operational functions are usually leased to the customer as part of the service agreement. Let's take a closer look at what includes managed hosting.
Managed hosting advantages:
Technical support
Primarily managed hosting includes this service. That is why it is a great deal that is saving your money and time. Why? This feature will help you not to hire a separate person for this job. In addition, if you do not have managed hosting, the amount you spend on setup or security services can be much higher than the plan for managed hosting. It can help you to save money. So managed hosting is a cost-effective purchase in any case, as full-fledged server administration takes too much time. Technical support can help you reduce the risk of problems. If you want to manage the hosting completely on your own, solving problems or settings can take you a long time, and thus deprive you of the opportunity to comfortably promote your site.
Free regular backups
Analysts estimate that the average number of files on the average user's smartphone exceeds 14,000. And yes, you can lose them at any time. But with the help of backups of all data, regardless of what happens to the original content, the archive copy is preserved and can recover absolutely all the lost information. Imagine how many files an online store or repository can store. Loss of all information can mean hundreds of hours of work, as well as huge losses for the company.
Complete or partial loss of data can occur for many reasons: system failures, the human factor, unauthorized access, and hundreds of others. Every year, about 32% of Internet users lose content due to ignoring backups.
Regular backups of your site should be done so that you do not worry about it. If you suddenly have a problem, backups will help you restore the site. So you can sleep well at night and know that all the information you have worked on is in safe. This will not only save you time but also save you money from having to buy online storage. In addition, our company keeps backups for 30 days, so you can use this to recover lost information at any time.
Security
The Internet is full of dangers, so you should always think about how to protect and scan your site from threats. Also, you can read more about how to prevent security issues here.  So you are more secure because the hosting company can monitor for known security issues. 
In addition, there are Doss – distributed denial of service attacks on a resource, service, network equipment, the purpose of which is to disable it, as a result of which users will not have access to it. The resource directs a large number of fake requests from hacked computers, thereby blocking the communication channel or creating a load on the server. In order to protect yourself from a possible DDoS attack, we recommend using the Cloudflare service. All HostPro servers are monitored with a DDoS protection system, and if there is a flood or DDoS, measures are taken to stop the attack. No one can guarantee complete security against DDoS attacks, because there are no systems without vulnerabilities. But on our part, the administrators are taking all possible measures to eliminate the threat and quickly restore the site.
​​Installation of security patches and updates, сertificate installations, сustom software installation, LiteSpeed Web Server support, baseline security set up – all these services are included in managed hosting from a good provider. 
Speed
The speed of the site is one of the key factors in determining its popularity. Google's recommended page load time is less than two seconds. Why? About 50% of visits are stopped if the pages load longer than 3 seconds. 
The speed of the site depends on some key factors:
internet speed between users and site hosting;
hosting server speed;
CMS site performance;
"Weight" of site pages, including images, CSS and JS files;
complexity of HTML / CSS / JS page layout;
the presence in the pages of the site inclusions of code from third-party services.
If the main factors of a quality site work well, but you still want to improve the speed, the providers can help you solve additional problems. For example, server-side caching. When a server can be fully optimized for a single system, it will run faster, smoother, and more reliably. This will increase the running time of your website and increase the download speed. 
Updates
In the digital world, every company has a website that needs updating from time to time. The question is why? After all, there is a proven site that requires time, effort, and money, it brings conversions and satisfies users.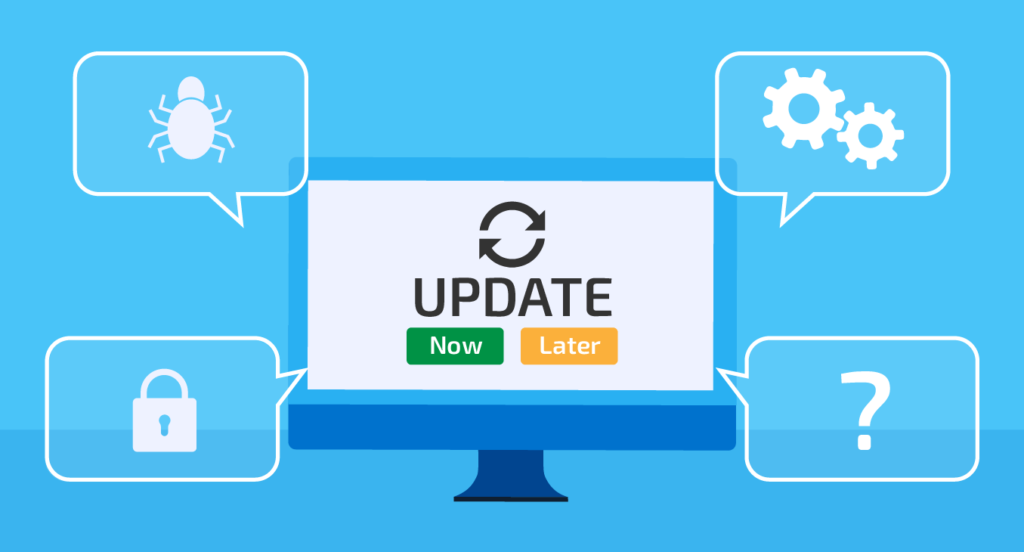 As we have said before, Internet security plays an important role. Therefore, you need to take care of security measures. In addition, you need to keep track of timely updates so that everything works properly and correctly. The importance of updating applications and the operating system also affects site performance and security. Managed hosting includes security measures, applications, and OS updates and will help keep your site safe.
Take care about your web site
Talking about managed hosting – many different pros can be discussed. However, in this article, we discovered the basic benefits, as the range of services included in a managed hosting plan can vary. However, in general, we can say that this type of hosting is like a caretaker who monitors your site and protects it from various dangers and failures. Use managed hosting and make sure of the security, convenience, and quality of our services!